Travelling Retreat to India with Mukesh Gupta
THE SPIRIT
School For Self Inquiry offers one or two Travelling Retreats to India in a year. 
These journeys are not for "tourism" purpose, but a relaxed unhurried traveling without rushing from one point to another and staying at two different inspiring retreat centres in North India. We call it a traveling retreat in a "Sangha" of spiritual friends. The size of the group is kept really small (around 12 only) so that the group has a quality time together. We support and look after each other in a safe, caring, and respectful way and learn together the art of living and sharing as compassionate fellow travelers. Please remember that you can only join these travelling retreats if you have attended at least one retreat with Mukesh anywhere in the past or before the start of journey to India.
THE STRUCTURE
The journey contains two full week meditative retreats with Mukesh inspired by the teachings of J. Krishnamurti, non-duality and the deep ancient wisdom coming from all sources. The locations of these retreats will be in inspiring places in nature in North India/Himalayas. The journey will also include a short two-day trip to one of the historical cultural heritages in North India. The daily schedule will be a relaxed one: including meditations, inspiring talks, meditative dialogues, self-inquiry sessions, readings, walks, yoga, hikes and free space for oneself. For full details about the program and logistics please fill up the form below. 
THE DATES in 2024 & 2025
16 January - 3 February 2024 [Registration full]
1 - 20 February 2025 [Registration open]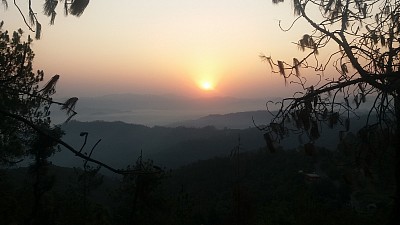 A sunrise in the Himalayas