Deep Meditative Retreats in the Alps of Switzerland: 26 Sep.- 1 Oct. & 14 - 19 Nov. 2023
Inner Peace & Transformation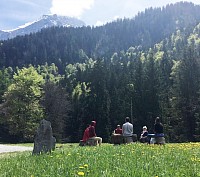 Riversong Retreat in Switzerland
Riversong - 1880 Les Plans-sur-Bex route de Pont-de-Nant 8 - Switzerland 

www.riversong.ch 
"In the light of silence, all problems are dissolved." - J. Krishnamurti
INSPIRATION
The brain loses it sensitivity and vitality through constant noise and chattering. The source of most of our problems in work, life and relationships is a noisy mind which mechanically lives and reacts from its past baggage. Habitual reactivity of the mind causes great mental and emotional suffering. Can the mind withdraw from its automatic reactions and pause? Can it be peaceful and quiet without force and control? Can the mind learn to have a deep rest and leisure? Can the mind stop struggling to become something all the time and rest in now? Can we enjoy the beauty of anonymity, nothingness and aloneness - which is not isolation? How inner silence can be a foundation for right action, relationship, deep intelligence and creativity? How silence is connected with inner freedom, joy, love and healing? This retreat is an invitation to uncover and awaken that timeless source of wisdom inside us through deep inner silence. We are going to explore existentially the great importance of inner silence in our daily living. 
RETREAT HIGHLIGHTS

·       This retreat offers a restful break, a pause for the mind, body and heart that is essential as a foundation for deep learning and transformation. It will provide the condition for creating, all along our journey together, a meditative state of mind essential for a serious inner enquiry.
·       The intention is not to fill our minds with intellectual knowledge but to awaken the profound source of being within, so that we get inspired to live our everyday life from the wellspring of inner stillness.
·       One of the main highlights of the retreat is "Meditative & Transformative Self-inquiry. What we learn here is that a deep self-inquiry is a compassionate meditative process of self-discovery infused with a quality of silence and love.
·       Inspiring live talks
·       Exercises in a one-to-one setting and small group exchanges.
·       Meditations and meditative walks in nature.
FOR WHOM?
It offers a safe, serious and caring space to discover ourselves, meet our deep essence and look at our whole life in a fresh, creative way, whether we are a seeker, a mindfulness practitioner, a coach, a therapist, an artist, a teacher, a professional from any field, a leader, a change-maker, a parent or simply a student of life.
ABOUT THE FACILITATOR
MUKESH GUPTA is going to facilitate this retreat.
VENUE & LOGISTICS
Riversong is nestled in a small beautiful village in the Alps of Switzerland, about two hours from Geneva International airport. The retreat begins at 6 pm on the date of arrival and ends with lunch on the date of departure.
REGISTRATION
Per day cost for the retreat including the whole stay, all the vegetarian mealsandthe whole course:
ChFr 160 per night (24 hours) per person in a single room
ChFr 125 (24 hours) per person in a shared room
It is possible to join for a shorter period of the retreat. 10% discount if you registerfor the entire retreat. For booking your place please contact Bernard:
Tel.: +41 - 24 524 15 40 & 79 607 80 65
HOW TO REACH

The nearest airport is Geneva and the main train station is Bex. From Geneva airport there are frequent trains to Bex. From Bex you need to take a bus to Les Plans-sur-Bex, Le Chamois. The timetable and tickets for both train and bus can be checked and booked at:
Testimonials
M. Ray, A Personal Coach in Switzerland:
"After attending a retreat with Mukesh at Riversong, Switzerland, I'm a lot more connected to joy and I feel that I begin my days with my heart open and that I embrace my life fully with trust."  


Catherine Pfaehler, 
Bern, Switzerland:
"Spending gentle time with Mukesh at the Riversong Retreat Centre in Switzerland has been a deep gift and pleasure for my soul every time I had a chance for it. The slowing down, the practice of deep listening and seeing in a small group helps me to grow, to broaden my understanding on all levels and to relax into my heart. Thank you for allowing me to realize that this is all I need, for my entire life: Resting peacefully in the heart."